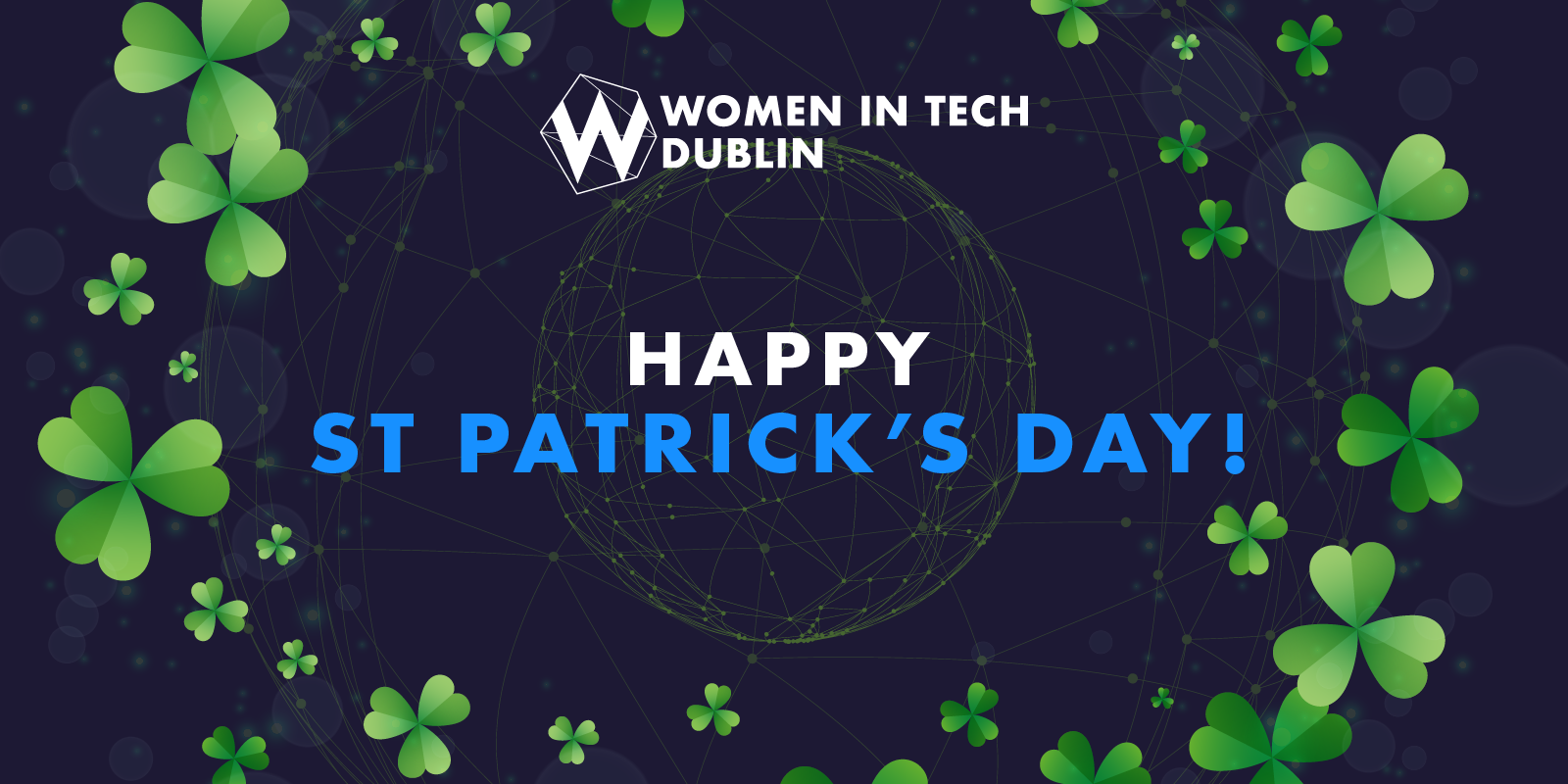 In the spirit of St Patrick's Day on the 17th March, we asked some influential figures from the tech industry to share what makes them feel fortunate about their work.
Ireland is a European tech hub with a bright future. Numerous major companies have created a base in the country, including Google, Facebook and Airbnb. This is thanks in part to the government actively encouraging innovation and new business, with an appealing 12.5% corporation tax coupled with a 25% R&D tax credits initiative. The presence of tech giants in the area has in turn helped Ireland's startup culture to bloom and attract an even stronger multilingual workforce.
Many tech workers feel lucky to work in such a vibrant and pioneering industry – ahead of our Women in Tech Dublin conference this October, some of our speakers shared with us what makes them feel so fortunate to be a part of it all:
☘️
Scarlet George, Consultant at Oxford Insights:
"I've worked in a few different areas, marketing, e-commerce and now public sector consulting. Working in different sectors early on in your career wasn't always easy. I feel lucky that I've been able to follow my interests and develop different skills along the way.
In my current job, I get to work on projects I'm passionate about and get to put my work on feminism and gender inclusion into practice. I'm currently working on a project looking at how to include more gender-equal and socially inclusive practices and policies in ICT public procurement across five countries.
Due to the huge buying power of government, it has the opportunity to affect how the market operates. It's amazing to see how procurement (not a very sexy topic) can make an impact for change in the area of gender equality and social inclusion."
☘️
Ralph Benson, Co-founder and Head of Financial Advice at Moneycube:
"What counts is the freedom to be lucky. I'm lucky to be in my job because with it comes the chance to chase down opportunities, make things better, and help our customers build their wealth. Some people say you should follow the money – you shouldn't. Instead, it's vital to seek enough freedom in your work to do what motivates you. That way, you'll find that the money will follow you."
🍀
Zonja Bailey, Head of UX, CRO & Analytics at Wolfgang Digital:
"For me it's the company that I work for, that makes me most happy to come to work everyday. Not only are they an award winning agency that drives excellent results for our customers, but the culture of fostering talent and career paths for employees is beyond par to any other agency that I've worked in.
One of the biggest traits that I'm proud of is the Wolfgang mission on inclusivity. The internal activities to increase inclusivity include; Gender Pay Balance, our She-Wolves team created to support women in the workplace.
Overall working with an exceptional team, who have such a great culture on not only delivering innovative work while also fostering inclusivity and women in the workplace, makes me proud of my job, my team and my company."
☘️
Coral Movasseli,

Managing Director at Girls in Tech:
"Some luck, and mostly hard work, and resilience have all contributed to helping me get to the position I am in today. I am very blessed to have had people around me who have continuously supported me, especially during the moments I needed the most. Life is a human game, so whilst you can go at it alone, it's more rewarding and fun to find good people to be on the journey with you."
🍀
Dr Joan Cahill, Research Fellow/Principal Investigator at Trinity College Dublin:
"I feel lucky to work in a job that allows me to continuously learn about 'being in the world' and the human issues relevant to the design, use and impact of emerging technologies. Framing problems, challenging assumptions, making use of multidisciplinary perspectives (i.e. Behaviour Science, Human Factors & Ethics) and designing with stakeholders is fun, challenging and motivating. However, most importantly, it is necessary to deliver real societal impact."
🍀
Caroline Hynes, Director of Production at Zendesk:
"My entire career I have worked in technology companies in the US and Europe, and my biggest supporters and sponsors have been male colleagues and leaders who were invested in nurturing not only my talent but my confidence and challenged me to break down any limiting-beliefs I held. I am forever grateful for their honest feedback and encouraging words, especially as I started to progress my career.
To this day I have strong male mentors and advisors. I think it's important as there is a continued focus and more conversations about women having a deserved seat at the table (hopefully even more than one seat!) that we don't lose sight of the fact that there are male colleagues who are big champions for women progressing equality for salary and deserved career level.
Mentoring women is critically important, and something I have been actively involved with in companies over the last number of years. Zendesk is a company that places a lot of value on this, having established "Thrive mentorship", and I'm privileged to be involved in this initiative.
It is important that we all support, guide and listen to those women building their careers and forging their paths. We all need to be good role models for each other."
☘️
Find out more about our speakers
Our list of speakers for Women in Tech Dublin is growing each week and already boasts an impressive line-up of trailblazing women and men from across the tech sector. Click below to view our current list of speakers and discover more about their professional backgrounds or apply to be a speaker yourself and share your insights with 1,800 engaged attendees.
Don't leave it to luck...
Of course, it takes more than just luck to have a successful business or career – you need to work hard, surround yourself with the right people and focus on actively learning as much and as often as possible.
Women in Tech Dublin is the perfect opportunity to do just that. Join us at the CCD in Dublin on October 15-16, 2020 to take the lead in creating a prosperous career and progressing the tech industry as a whole.
Super Early Bird Passes are available for a limited time only – book now to avoid disappointment:
You can follow us on Twitter, LinkedIn, Instagram or Facebook to keep up to date with everything Women in Tech World Series.